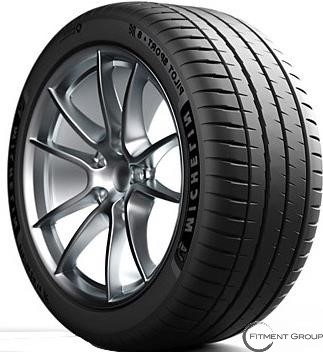 Price
---
Mileage Warranty
30,000
Your estimated tire life:
Calculate your tire life
---
Save $260 instantly on 4 tires
$65.00 off per tire. No minimum purchase.
(In store installation required)
with 6 months payment plan
---
Tire Life Details
How many miles do you drive per year?
15K
1K
60K
Your estimated tire life:
---
Description
"The Pilot Sport 4s Is Michelin's Max Performance Summer Tire Developed In Collaboration With The Most Serious Vehicle Producers, Like The Audi, The Bmw, The Mercedes-benz And The Porsche By Utilizing Key Technologies Created During The 24 Hours Le Mans Competition. The Pilot Sport 4s Is Definitely For Drivers Looking Seriously To Capitalize On The Performance Capability Of Their Performance Sedans, Sports Cars, And Powerful Luxury Vehicles. The Tire Performs Optimally In Both Dry And Wet Conditions. Similar To All Max Performance Summer Tires, The Pilot Sport 4s Tire Is Not Recommended To Be Stored, Serviced, Nor Driven In Temperatures Near To And Below Freezing, Nor On Ice Or Through The Snow. the Tire Features An Asymmetric Tread Design Consisting Of Side-by-side 24 Hours Le Mans-derived Compounds. Outer Shoulder Blocks Employ The Use Of An Advanced Dry-focused Fusion Of Tread Rubber To Deliver Better Dry Handling And Improved Braking When Compared With Previous Tires. Inboard Shoulder And Center Ribs Feature An Infused Silica Wet Compound That Offer Improved Wet Braking. The Computerized Modeled 3.0 Adaptable Contact Patch Optimizes An Even Distribution Of Pressure Over The Contact Patch During Turns And Reduces Hot Areas To Improve Tire's Life. the Pilot Sport 4s Inner Structure Features Matching Steel Belts Protected By A Spirally Wound Hybrid Cord. This Fused Aramid And Nylon Strap Provide A Lightweight, Full-strength Support, Above The Steel Belts For Improved Handling During High-speed Drives, Even Wear And Stability. A One-ply Polyester Cord Case Stabilizes The Tire's Performance For Ride Comfort And Responsive Handling. note: Tires Left Open To 20 Degrees F (-7 Degrees C) Temperatures Or Lower, Must Be Allowed To Return Slowly To Temperatures Of No Less Than 40 Degrees F (5 Degrees C), For A Minimum Of 24 Hours Before Any Flexing, Which Includes The Adjusting Of Inflation Pressures, Fitting Them On Wheels Or Using Them As Support For Rolling Or Driving A Vehicle. cold Weather Flexing Of The Specific Rubber Compounds Used In Max Performance Summer Tires Can Cause Permanent Compound Cracking. Warranty Does Not Cover Compound Cracking, Which Occurred Due To Improper Storage Or Use. Replacing The Tire Is Essential When Compound Cracking Occurs. ."
---
Specifications
| | |
| --- | --- |
| Wheel Diameter | 19 |
| Aspect Ratio | 35 |
| Section Width | 265 |
| Overall Diameter | 26.3031 |
| Weight | 25.37 lbs |
| Part Number | 87309 |
| Speed Rating | (Y) |
| Load Index | 98 |
| | |
| --- | --- |
| UTQG | 300AAA |
| Warranty | 30000 Miles |
| Load Range | XL |
| Tread Depth | |
| Max Load | 1653 lbs |
| Max PSI | 50 |
| Revolutions per Mile | 766.76 |
| Country of Origin | N/A |
---
Customer Reviews
This tire has no reviews.
Be the first to leave a review!