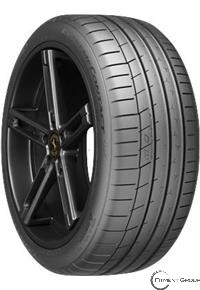 Price
---
Mileage Warranty
30,000
Your estimated tire life:
Calculate your tire life
---
Save $180 instantly on 4 tires
$45.00 off per tire. No minimum purchase.
(In store installation required)
with 6 months payment plan
See Out The Door Price
---
Tire Life Details
How many miles do you drive per year?
15K
1K
60K
Your estimated tire life:
---
Description
"Continental Designed The Extremecontact Sport As A Max-performance Summer Tire For Performance Sedans, Sports Cars, And Powerful Luxury Vehicles. The Extremecontact Sport Combines Supreme Performance, Superior Ride And Noise Comfort In Dry And Wet Weather Conditions. The Extremecontact Sport Is Similar To All Max-performance Summer Tire And Should Never Be Stored, Serviced Or Driven On Ice, Through Snow Or In Temperatures Close To, Or Below Freezing. continental Utilized Its Sportplus Technology And A Specific Summer-only Compound And Molded It Into A Five-rib (or Six-rib Depending On The Sizes) Irregular Pattern For The Extremecontact. This Technology Allows The Tire To Deliver Improved Wet Grip, Superior Wear And Precise Handling For Complete All-out Performance. The Wide Tread Blocks On The Outer Shoulder Provide Horizontal Grip And Better Handling At High Speeds. The Continuous Center Rib Allows Continual Rubber-to-road Contact, While Enhanced Footprint Allows For Even Distribution Of Pressure Across The Tire For Extended Tread Life. By Using Its Patented +silane Tread Compound Technology, Continental Designed The Extremecontact To Deliver The Traction Necessary For Confident Handling In Wet Conditions. The Deep Circumferential Channels Provide A Straight Path To Disperse Water Quickly And Reduce Hydroplaning Risks. The Quickview Performance Indicator Located In The Extremecontact Tread Pattern Alert Drivers To The Tire's Suitability For Dry And Wet Weather Use. the Extremecontact Inner Structure Features A Polyester Body And Two-ply Sidewall That Increase Sidewall Rigidity But Capitalizes On Ride Comfort. Two Matching Steel Belts And Double Spirally Wound Polyamide Lid Plies Provide Added Support To Deliver High-speed Competency. note: Any Tire Left Unprotected In Temperatures Of 20°f (-7°c) Or Lower Must Be Allowed To Return Slowly To A Minimum 40°f (5° C) Temperatures At Least 24 Hours Before Being Flexed In Any Way, Such As Putting Them On Wheels, Altering Inflation Pressures Or Drive, Roll Or Support A Vehicle. any Flexing -during Cold Weather -of The Particular Rubber Compounds Utilized In Developing Max Performance Tires Can Lead To Irreparable Compound Cracking. The Warranty On The Tires Does Not Include Compound Cracking Because It Resulted From Improper Storage And Use. Tires Displaying Compound Cracking Must Be Substituted done ."
---
Specifications
| | |
| --- | --- |
| Wheel Diameter | 20 |
| Aspect Ratio | 35 |
| Section Width | 235 |
| Overall Diameter | 26.4764 |
| Weight | 20.68 lbs |
| Part Number | 15507470000 |
| Speed Rating | Y |
| Load Index | 88 |
| | |
| --- | --- |
| UTQG | 340AAA |
| Warranty | 30000 Miles |
| Load Range | 0 |
| Tread Depth | |
| Max Load | 1235 lbs |
| Max PSI | |
| Revolutions per Mile | 761.74 |
| Country of Origin | N/A |
---
Customer Reviews
This tire has no reviews.
Be the first to leave a review!