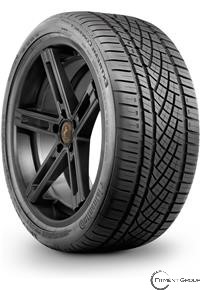 Price
---
Mileage Warranty
50,000
Your estimated tire life:
Calculate your tire life
---
Save $80 instantly on 4 tires
$20.00 off per tire. No minimum purchase.
(In store installation required)
with 6 months payment plan
See Out The Door Price
---
Tire Life Details
How many miles do you drive per year?
15K
1K
60K
Your estimated tire life:
---
Description
"Continental Developed The Extremecontact Dws 06 As An Ultra-high-performance All-season Tire For Sports Trucks, Sports Coupes, Sports Cars, And Performance Sedans. The Extremecontact Dws 06 Provides Year-round Driving Capability By Combining Wet And Dry Road Performance With Wintertime Sludge And Snow Grip. the Extremecontact Dws 06 Tire Is Designed With Continental's Sportplus Technology That Provides Improved Handling, Wet Grip, And Prolonged Wear. An Innovative Silica-enhanced All-season Compound That Features +saline Additives Provide Improved Wet Traction And Extended Tread Life. The Compound Forms A Distinctive Irregular Tread Pattern Featuring Continental's Chamfered Edges That Provides An All-out Tire-to-road Contact In Dry Conditions, While Traction Grooves Increase 3d Snow Traction. the Outboard Shoulder Macro Blocks Boost Responsive Handling And Cornering Stability. The Central Independent Blocks Have X-sipes Separated By High-angle, Overlapping Grooves To Provide The Necessary Biting Edges To Boost All-direction Grip In Light Snow And On Wet Road Conditions. The Independent Inboard Shoulder Blocks Support Water Dispersion From Beneath The Footprint To Offer More Hydroplaning Resistance And Foul Weather Grip.the Internal Structure Of The Extremecontact Dws 06 Tire Features Matching Steel Belts Strengthened With Spirally Wound Continuous Nylon Cap Plies For Delivering Lasting Reliability At High-speed While Decreasing Weight And Help To Deliver Better Ride Quality. the Quickview Indicators On The Extremecontact Dws 06 Tires Help To Identify Vehicle Misalignment Problems Early In The Tire's Life Before Patterns Of Wear Start Showing And Confirm The Different Driving Conditions Suitability Via Tuned Performance Indicators. These Tuned Performance Indicators Are Noticeable Letters Imprinted Into The Second Rib From The Outboard Shoulder, Which Alert Drivers About The Performance Level Of The Tire. a Noticeable "dws" Shows That The Tire Has Suitable Tread Depth For Dry, Wet And Snow Conditions. Once The "s" Wears Away, The Remaining "dw" Means That The Tire Has Suitable Tread Depth For Dry And Wet Conditions. With The "w" And "s" Wearing Away, The Remaining "d" Tells That The Tire Has Suitable Tread Depth Only For Dry Conditions ."
---
Specifications
| | |
| --- | --- |
| Wheel Diameter | 17 |
| Aspect Ratio | 45 |
| Section Width | 205 |
| Overall Diameter | 24.2638 |
| Weight | 18.06 lbs |
| Part Number | 15499590000 |
| Speed Rating | W |
| Load Index | 88 |
| | |
| --- | --- |
| UTQG | 560AA |
| Warranty | 50000 Miles |
| Load Range | 0 |
| Tread Depth | |
| Max Load | 1235 lbs |
| Max PSI | |
| Revolutions per Mile | 831.2 |
| Country of Origin | N/A |
---
Customer Reviews
This tire has no reviews.
Be the first to leave a review!