Tire Rotation Services
To avoid uneven tread wear it's important to rotate your tires regularly.
Tire Rotation
To avoid uneven tread wear it's important to rotate your tires regularly.
TireRotation
Why is itimportant to rotate tires?
Under normal driving conditions, the front tires of your cartypically wear faster than the rear tires. This is because the front tiresreceive the most impact from turning in addition to supporting the extra weightof the engine. Regular tire rotation can help ensure even distribution of yourtire wear as well as increase wheel traction. This increases your vehicle'stire mileage and can extend your tires' service life, and can save consumershundreds of dollars in premature tire replacement.
How often doI need a tire rotation?
A tire rotation is recommended every 6,000 to 8,000 miles toavoid uneven tread wear. This should approximately be every six months.
What is includedin the tire rotation service?
Visit your local Big Brand Tire & Service location inorder to receive expert advice from our maintenance professionals regarding whichtire rotation pattern will be most recommended for your vehicle. If you have afull-size spare, it can be included in your rotation pattern. However, neverrotate with a small temporary spare. Here are two common tire rotationpatterns:
The rearward cross pattern takes the front tires to the backwhile swapping left for right as the back tires move up to the front but stayin their respective left and right positions.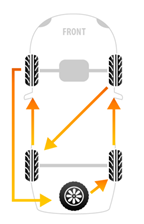 An X-pattern swaps all tires from front to back, left toright. Finally, the front cross pattern takes the back tires to the front,swapping right for left while the front tires go to the back but will not beswitched from left to right.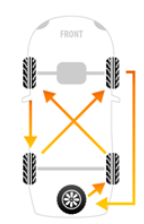 OTHER TIRE SERVICES