Bakersfield Tires & Auto Services
Address
9513 ROSEDALE HWY
BAKERSFIELD
,
CA
93312
Contact
(661) 829-1417
sales@bigbrandtire.com
Store Hours
7:30am - 6pm Monday - Friday
8am - 5pm Saturday
9am - 4pm Sunday
Wait Time
mins
The Southern Gateway to the Central Valley, Bakersfield is the 9th largest city in California and one of the fastest growing regions in the nation. Steeped in music history, the city is the birthplace of the country music genre known worldwide as the Bakersfield Sound. Bakersfield is the seat of Kern County, which generates 76 percent of the state's oil supply and ranks third among all counties in the United States in agriculture-related production. From award-winning museum exhibits to a variety of regional attractions, Bakersfield has something to do for everyone! (Referenced through visitbakersfield.com) Big Brand Tire & Service is located in the N.W part of Bakersfield on Rosedale HWY (between Coffee Rd & Calloway Dr). Plenty of things to do around us, we are conveniently right across the street from the Kohl's/Target shopping Center. We are neighbors with Salty's BBQ and many other restaurants.

Big Brand Tire & Service in BAKERSFIELD , California offers reliable, responsible auto repair, automotive maintenance services, and the lowest prices on new tires and expert tire services. If you neeed tires and auto repair services in BAKERSFIELD , Big Brand Tire & Service is your trusted source for auto repair and tires for over 40 years.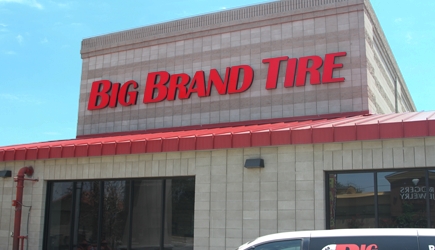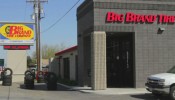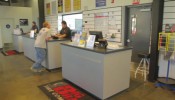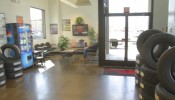 Big Brand Tire & Service
Your opinion matters! Please take a moment to review us on Yelp, or write your own review below.
Write a Review about this store

Go
"Service was great, no complaints"

-

ALVARO

"I am so glad that I finally found a place where the sales associates give you accurate information and provide you with great service."

-

LISA

"I have to tell you that I was so impressed by the staff at your rosedale hwy location in bakersfield!"

-

MARILYN

"I think if is not broken, don't try to fix it. It was a great experience, I will be doing more business with you all"

-

REGINALD

"Went for tire rotation. Was out door in less than 30 min after arriving. Great job!!!"

-

CHARLES

"Best experience I've ever had. Went above and beyond all the way. Great group of guys!!!!"

-

DAVID

"You were outstanding. No improvements necessary. "

-

JULIE

"We have been taking our vehicles there for a couple of years now and have been very satisfied with the customer service and knowledge of our service Rep."

-

FIDEL

"Great service. Great staff. My truck has no more hissing brakes."

-

DANA

"Great service. Great staff. My truck has no more hissing brakes."

-

DANA

"It was a great experience, and I'll be back!"

-

SCOTT

"Your staff was great and did an excellent job."

-

JOSH

"You did a great job!"

-

DON

"You did a great job!"

-

DON

"Everything was satisfactory."

-

LUIS

"Mitch was knowledgeable and I got a good deal on a set of Deltas. Overall a good experience."

-

RANDY

"Wait times can be very long without an appointment."

-

MOHSIN

"Your waiting area was far better than any other I have experienced. The computers, TV, the waiting area was nice, I saw coffee."

-

BRYAN

"I have been going to your stores for the past 15 years."

-

MARK

"keep up the good work!"

-

SERGIO

"Offer a customer loyalty discount to consistant loyal customers of Big Brand Tire"

-

PHIL

"The ONLY thing you could do for people who choose to wait is to have some magazines to read. Otherwise the service is great, the area is clean and employees seem to really care."

-

PRISCILLA

"Been using Big Brand for over a decade and have always had GREAT service from your local shops."

-

DOUGLAS

"I was very pleased with my experience and the quality of the work performed."

-

RAVEN
Are you looking for tires and auto services in Bakersfield? Check out some services we offer: